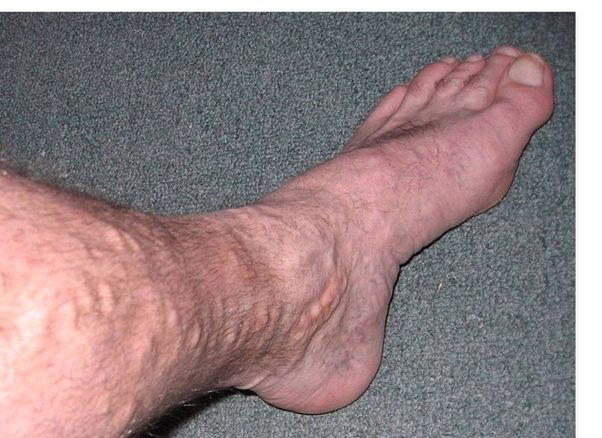 Varicose veins refers to the condition of prominent worm like swellings in the legs and thighs of affected individuals. The swellings are due to dilated low pressure blood vessels in these regions called veins. The affected individuals usually have discomfort and pain and heaviness in their legs which increases during evening hours. Over a long time, the affected legs can turn bulky especially below the shin with blackish discolouration and pigmentation. Severe cases end up with nonhealing ulcers and wounds in the ankle and shin region called venous ulcers.
In addition to a clinical examination by a doctor the most important investigation is a doppler ultrasound scan of the legs. The scan is used to confirm the diagnosis and also to map out the affected venous segments and territories. The lower limbs have major junctional points in the knee and groin region which function as check mechanisms ensuring the upward flow of venous blood toward the heart and when these junctional check mechanisms fail the disease process starts. Additionally, sometimes certain perforator veins can be involved. The doppler scan also ensures that the deep venous system of veins inside the muscles of the leg are open, this is vitally important before treatment as inadvertent treatment of varicose veins when the deep veins are already closed or unhealthy can lead to disastrous consequences
Minor cases are treated by stockings and lifestyle changes. Varicose veins have been treated traditionally by surgery. But over the last 2 decades, the treatment has entirely changed towards minimally invasive techniques like sclerotherapy, LASER ablation, RFA ablation. The unifying concept is targeting the diseased veins and closing them inside the body by heat or injections. However varicose veins are a disease process that tends to recur and recurrence is highest with open surgery.
Newer treatments like laser ablation and RFA ablation also can lead to some skin burns, nerve paraesthesias and patients need to wear compressive stockings for long periods post procedure.
The latest addition to the treatment is GLUE treatment where the veins are occluded by a superglue like material. This simple procedure can be done under ultrasound guidance (no radiation) through a small needle prick (no cuts no stitches) and is painless. As no heating element is involved in the treatment there is no risk of burns or nerve paraesthesia. Additionally, the patient does not have to wear stockings for long. Interventional radiologists by their adept knowledge of ultrasound have rendered the best results with this latest technique. The only rare complication is of allergy to the glue element with very few cases reported worldwide. If you or someone you know has varicose veins it's time you see an interventional radiologist.
Leave a reply